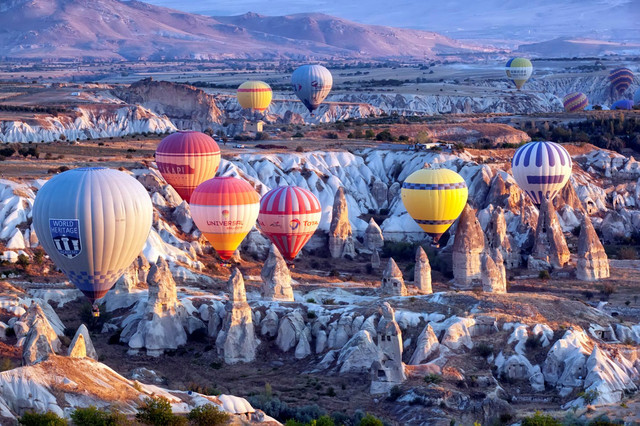 Turkey: Straddling Continents and Spanning Empires
2019-06-21 14:54:24
浏览数 5.1万
Turkey has long been a global crossroads. Straddling Europe and Asia, its lands have seen the rise and fall of vast empires including the Greek, Persian, Roman, Byzantine, and Ottoman. This long history combines with pristine natural beauty. Black Sea resorts dot Turkey's northern coast. Grand cathedrals and mosques line the Bosporus Straits in Istanbul. Picturesque islands are scattered in the Aegean Sea. And ancient ruins coexist with modern luxury along the Mediterranean coast. It is a land for travelers seeking something exotic yet familiar. In this and so many other ways, Turkey is the ideal blend.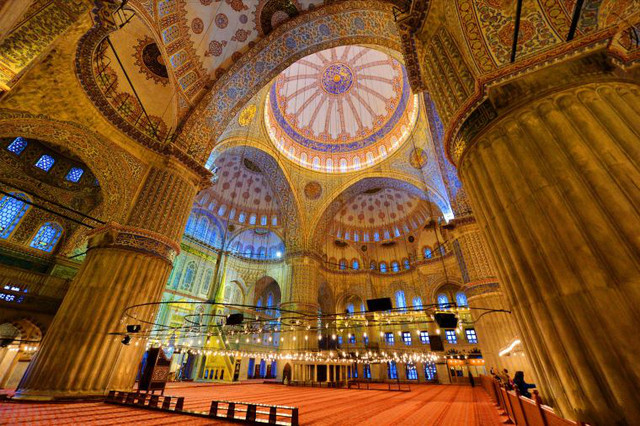 (Photo by: 陈旻)
Traveling in Turkey is more or less straightforward. Istanbul and Ankara both have large international airports servicing destinations worldwide. First-time travelers should try to arrive in Istanbul and spend a few days there. Given geopolitical tensions, the vast majority of travelers concentrate on sights in Western Turkey. The eastern regions bordering Syria, Iraq, and Iran should be approached cautiously and in keeping with travel recommendations provided by your home country.
1. Istanbul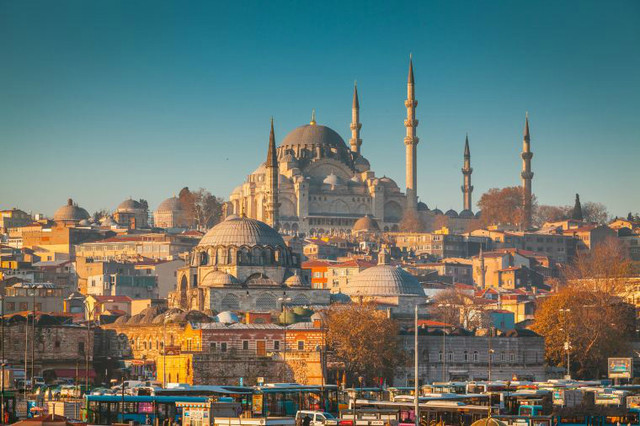 (Photo by: 周少阳)
A jewel on the Bosporus, Istanbul is a must-visit destination in Turkey. Picture the city as divided into three parts: the historic peninsula, areas to the north on the European side, and the Asian side across the Bosporus. The city's best-known sights are clustered on and around the historic peninsula. Start near Sultanahmet, the center of historic Constantinople. Tour the famed Blue Mosque, which was completed in 1619 and is recognized as one of the last great mosques from the classical period of Ottoman architecture. Afterwards, venture to nearby Hagia Sophia Museum. Hagia Sophia is arguably the finest example of Byzantine architecture anywhere in the world. With the remainder of your time, wander Sultanahmet and visit the Grand Bazaar.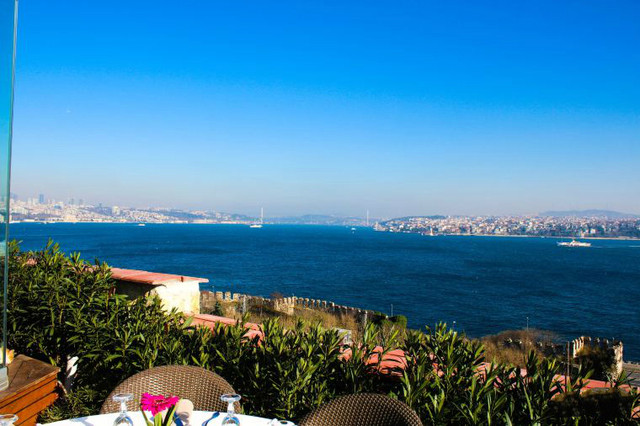 (Photo by: 左尧)
If you can afford to spend several days in Istanbul, consider returning to Sultanahmet or splitting time between its major attractions. Other popular things to do include a Bosphorus River cruise. Connecting the Mediterranean and Black seas, the Bosphorus is one of the world's busiest waterways. Day-cruises can take you north to the Black Sea and back. This is a fantastic way to get a sense for the city. At night Istanbul comes alive with wonderful nightlife, cafes, restaurants, and bars. Look to enjoy some delicious Turkish food within view of the river and city skyline.
2. Ephesus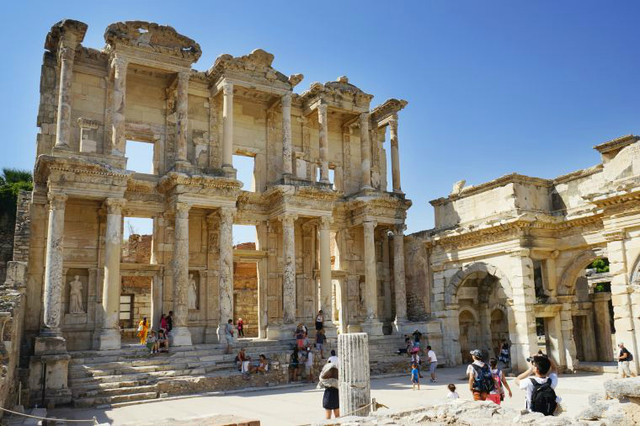 (Photo by: CYY)
Ephesus is a historic Greek and later Roman city. Ancient monuments, temples, and other structures still stand, attracting visitors from around the world. The regional transportation hub is nearby Izmir and most travelers will find it easier to book a flight there and travel overland to Ephesus. Archeological sites at Ephesus are extensive so you should budget several hours to explore. Depending on your travel schedule, consider adding a day or two in order to visit Selcuk, where you can explore more ancient ruins such as the library of Celsus and the House of the Virgin Mary.
3. Pamukkale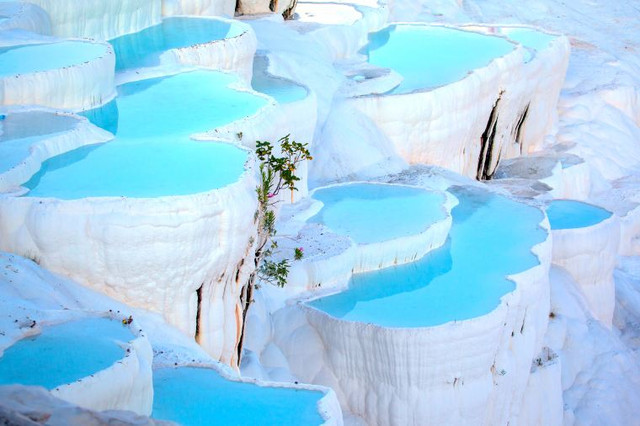 From Ephesus or Izmir, you can take a train to Pamukkale. Here you will find the ruins of Hierapolis and some mesmerizing natural hot springs. The springs are well known for their high calcium carbonate content, which over centuries has formed large white deposits. When filled with spring waters, the pools are simply spectacular with their aquamarine shine. Archaeological records indicate people have bathed here since antiquity. Don't forget to visit the Roman ruins and accompanying museum. Expanded over the years, there you will find an oft underrated showcase of the region's history and importance.
4. Fethiye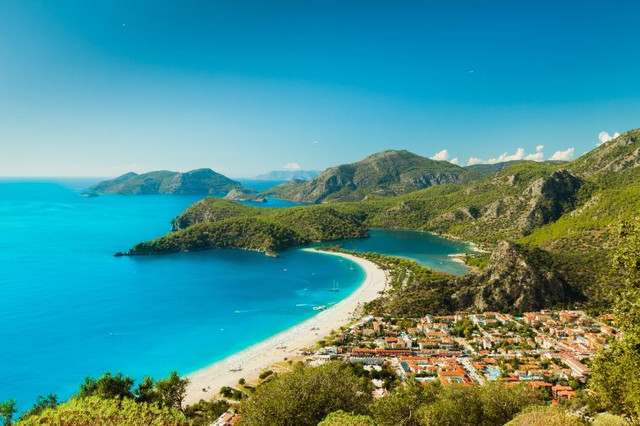 Set along the Mediterranean Coast, Fethiye is full of beautiful sights and rich entertainment options. Many enjoy paragliding over the beaches to truly get a sense for the natural beauty and turquoise waters. Soak in some sun and pay a visit to Fethiye Museum. Take a boat cruise around the Gulf of Fethiye or hike into the hills surrounding the city for some impressive photos of the town below.
5. Antalya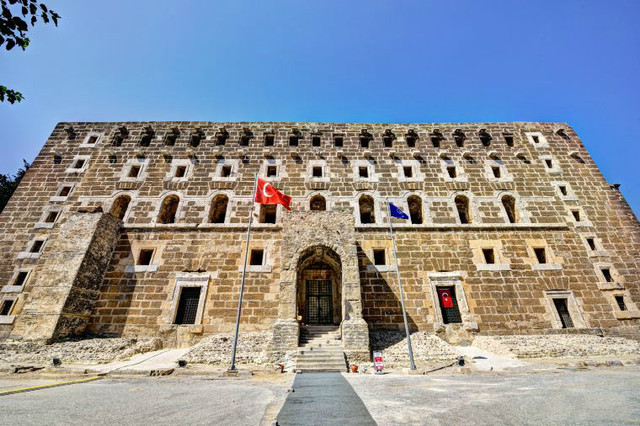 (Photo by: 张利俊)
Antalya is a large city on Turkey's Mediterranean coast. Set in what's known as the Turkish Riviera, Antalya is a popular resort destination. Founded in the 2nd century BCE, Antalya and the surrounding areas contain a treasure trove of cultural artifacts. Numerous empires ruled Antalya at various points and the city maintains this rich heritage. Whether you're looking for history or just beautiful scenery, Antalya is a great destination. Be sure to snap some pictures in front of Hadrian's Gate or take a short bus ride to see some of the beautiful coastal waterfalls.
6. Cappadocia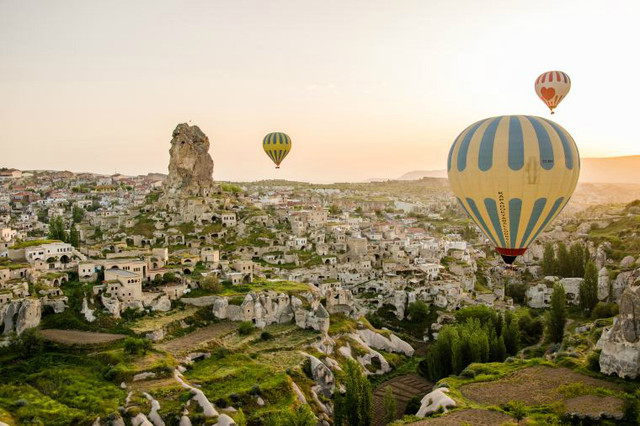 (Photo by: 刘寅)
This historic region in central Turkey is world famous for the many geological formations called hoodoos. Also known as "fairy chimneys," these rock structures resemble thin smokestacks. The thing to do here is take a hot air balloon ride at dawn or dusk when you can see the otherworldly landscape during the magic hours. Plan to stay a day or two and book a room in one of the famous cave hotels. These accommodations are often built right into the fairy chimneys and are a great place to meet fellow travelers. Be sure to also visit the UNESCO World Heritage Site at Göreme National Park and explore Derinkuyu underground city, the largest excavated underground city in Turkey.
With so many varied destinations, one can easily spend months exploring Turkey. As the crossroads of empires and part of the historic Silk Road, Turkey blends continents and cultures. There is an absolute wealth of experiences waiting for travelers here. Branch out, find those destinations that pique your interest. You will find yourself falling in love with this ancient yet modern country.
最新资讯